Gary Hankinson
724-471-2975
1970 Dodge Challenger T/A 340 Six Pak
Vehicle Description
In the late '60s, the Big Three were pumping out mid-sized performance cars like donuts in a donut shop. Chrysler's Dodge division, however, watched from the sidelines as Plymouth gobbled up sales with its popular Barracuda. All of that changed in 1970 when the Dodge Challenger was launched as an upscale alternative.

Designed by Carl Cameron, the man responsible for the 1966 Charger, the Challenger was offered in eight models: the base Challenger, Challenger SE, and Challenger R/T–all available as a hardtop or convertible. Mid-year, the race-ready Challenger T/A and low-price Challenger Deputy were added to the list.

The key to the success of the Challenger was its staggering number of engine and transmission combinations. Dodge covered the economy-minded buyer with its trustworthy 145 horsepower, 225-cubic-inch, Slant Six engine. If more power was needed, buyers had a choice of V-8s ranging from 318 to 440 cubic inches, with horsepower ratings from 230 to 425. The T/A was offered with a Six Pack, 290 horsepower, 340 cubic-inch engine. Base powertrain for the R/T was Dodge's 383. For more power, two combinations of the 440 were available: one with a four-barrel carb and one with a Six Pack. For those who had a really fat wallet and the need for the ultimate engine, a 426 Hemi was on the option list. When combining the engine combinations along with the optional four-speed manual or the trustworthy TorqueFlite, any performance wish was possible. Most performance engines from Chrysler were grossly underrated, and stuffing a 440 Six Pack or Hemi under the hood of a midsize automobile certainly created a wild ride.

By the end of the 1970 model year, Dodge sold almost 77,000 Challengers as it provided muscle car enthusiasts one of the most iconic and sought-after models of all time.


Fuel For Thought
First year for Chrysler's E-body
T/A Edition named after SCCA Trans Am series
Less than 2,400 produced
Featured Chrysler's new bucket seat
Challenger T/A was a one-year-only model


Specifications
Number built – Challenger 56,024, Challenger R/T 18,512, Challenger T/A 2,399 – Total 76,935
Construction – Unibody
Engine – 225 cubic-inch slant six cylinder, 318, 340, 383, 426, and 440 cubic-inch V-8s
Power/Torque – 225 cubic-inch six cylinder, 145 horsepower, 215 lb-ft torque, 318 cubic-inch V-8, 230 horsepower, 340 lb-ft torque, 340 cubic-inch V-8, 275 horsepower, 340 lb-ft torque, 383 cubic-inch V-8, 290 horsepower, 390 lb-ft torque, 383 cubic-inch V-8, 335 horsepower, 425 lb-ft torque, 426 cubic-inch V-8, 425 horsepower, 480 lb-ft torque, 440 cubic-inch V-8, 375 horsepower, 480 lb-ft torque, 440 cubic-inch V-8, 390 horsepower, 490 lb-ft torque
Transmissions – Three-speed manual, four-speed manual, three-speed automatic
Suspension front – Torsion bar with unequal-length control arms
Suspension rear – Leaf spring
Steering – Recirculating ball and nut
Brakes – Four-wheel drum standard, optional front disc brakes
Length/width/height – 191.3/76.1/50.9 inches
Wheelbase – 110 inches
Weight – 3,659 lbs.
0-60mph/quarter mile – 7.4 seconds, 14.9 seconds at 91 mph (Motor Trend, November 1969) (1970 Challenger 340)
Top speed – 109 mph (Motor Trend, November 1969)
MPG – 10-14 mpg est.
Price – MSRP - $4,056 (340); Today – $27,200-$75,100

Engine – All of Chrysler's powertrains were dependable. The 340, 440, and Hemi were designed for racing and proved to be in the top of their class. The T/A 340 Six Pack had reinforced main bearing webs, better intake ports, and modified heads. It was grossly underrated at 290 horsepower.

Handling – The Challenger handled exceptionally well. Its wide stance and sport suspension helped around the corners.
New Inventory at Hanksters.com
Hanksters now offers to you this all original Go Mango 1970 Dodge Challenger T/A 340 Six Pak Stock # 70CHALL1204 from the muscle car era. Our 1970 Challenger T/A has been collector owned for 16 years. It has the Black T/A stripes down the side with the 340 Six Pak decals on the front fenders. It also has the Black fiberglass hood with the carb fresh air package and hood pins along with the Black "Duck Tail" rear spoiler and front air dam. To complete the exterior of the car, this Challenger T/A is equipped with 15 inch steel Rally wheels with Goodyear Polyglas GT tires and has factory equipped side exit exhaust. This classic Dodge is guaranteed to turn heads. All trim and glass are in great condition on this car. It has the 340ci 3-2BBL 290hp Magnum Six Pak engine. It was also factory equipped with the A833 four speed manual transmission, power steering and power front disc and rear drum brakes. This car is in excellent condition. There are no disappointments with this classic. Classic muscle car looks, classic muscle car power, straight body and immaculate undercarriage make this 1970 Dodge Challenger T/A 340 Six Pak a fun car for any Classic Mopar muscle car enthusiast. More details below.
Exterior
Go Mango exterior with Black T/A stripes with Black 340 Six Pak decals
Factory equipped fiberglass hood with Carb Clean Air package
Front air dam
Black Duck Tail rear spoiler
15-inch steel Rally wheels
Tires are Goodyear Polyglas GTs F60 - 15s on the front and G60 - 15s on the rear
Factory equipped side exit exhaust
Interior
1st Ever recorded Challenger T/A with leather interior as per Galen Govier
Burnt Orange Leather Interior
Front bucket seats
Factory dash with 120 mph speedometer, fuel, water temperature and alternator gauges
Hurst four speed shifter
JVC AM/FM/CD player
Driveline
340ci 3-2BBL 290hp Magnum Six Pak engine
Factory equipped A833 four speed manual transmission
8.75 inch Sure Grip rear axle
Additional Options
Factory air cleaner
All original under the hood
Exhaust manifolds with dual factory equipped side exit exhaust
Power front disc and rear drum brakes
Power steering
Heater lines are hooked up
*All options listed on the fender tag have been decoded by Galen Govier and are available for viewing in the photos listed above.*
FREE SHIPPING
Hanksters offers Free Standard Shipping on every vehicle in stock to all of our customers within the U.S. Offer only applies to full retail price offers to customers within the 48 Contiguous States.
Affordable Financing and Worldwide Shipping Available.

For questions, please email or call.
We have several classic cars in stock, please contact us directly for the most current list of inventory.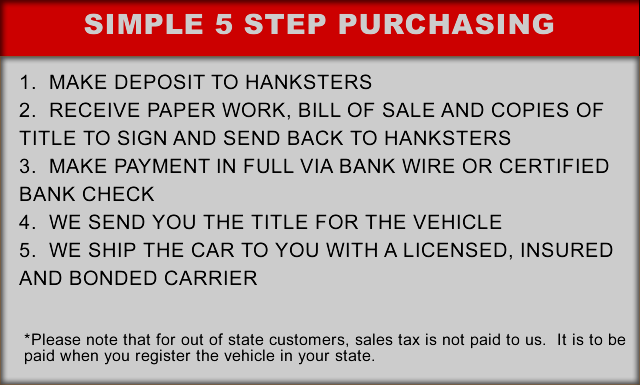 It is the customer's sole responsibility to verify the existence and condition of any equipment listed. Neither the dealership nor AutoRevo is responsible for misprints on prices or equipment. It is the customer's sole responsibility to verify the accuracy of the prices with the dealer. Pricing subject to change without notice.